Student Advisory Committee Blog
Keep up to date with what's going on with our Student Advisory Committee members.
Ready to GoPro? Not so fast!
by Sienna Gibson, Lake Orion HS '19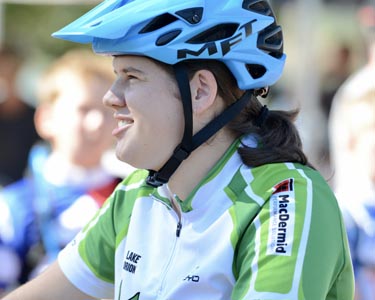 This video was filmed by the Lake Orion High School Television Production Workshop class. I went to them after some of the mums from my team started asking me about it. I talked to Mr. Smith, our broadcasting teacher, and after some persistence he finally got a couple of girls to come out and film the last race of the season. This video is the outcome of a camera in the hands of two girls who didn't understand the sport, so imagine what you could do with a camera and your friends! Get filming share your creations with your school and encourage more people to join this amazing sport that we all love. If you're looking for inspiration check out my YouTube @ Evil Genius Girl. The more the merrier.

You'll have even more opportunities to film your MiSCA season with the relaxed rules that were announced last month. In case you didn't hear, we can now have cameras mounted on our bikes or chest during races for 2018! This may be your season to take some incredible footage. I'm sure they'll make more announcements and update the rules download soon.
Most people will know what a GoPro is, but when it comes to action cameras GoPro isn't the be all and end all. I got my first GoPro when I was about 10 or 11 and it lasted a good few years but when it started to fail me I looked into other types of cameras because GoPros are expensive. In doing my research I found a lot of other noteworthy brands that had action cameras. Most were actually made by companies that make navigation systems and fitness trackers so the cameras actually include some cool aspects that GoPro doesn't have. For example, the camera I ended up buying was the TomTom Bandit action camera. This camera has a built-in speedometer so if you use their app or desktop studio you can put an overlay on the video. Some of the other overlays included 2D G-force and even your 3D G-force, it can show your altitude, and when connected to a fitness tracker you can overlay your heart rate. Another bonus I found with the Bandit is that it does need any cords to connect to a computer. All you have to do is pull the battery, TomTom likes to call it a bat-stick, out and it's got a built-in USB so you can plug it straight into your computer.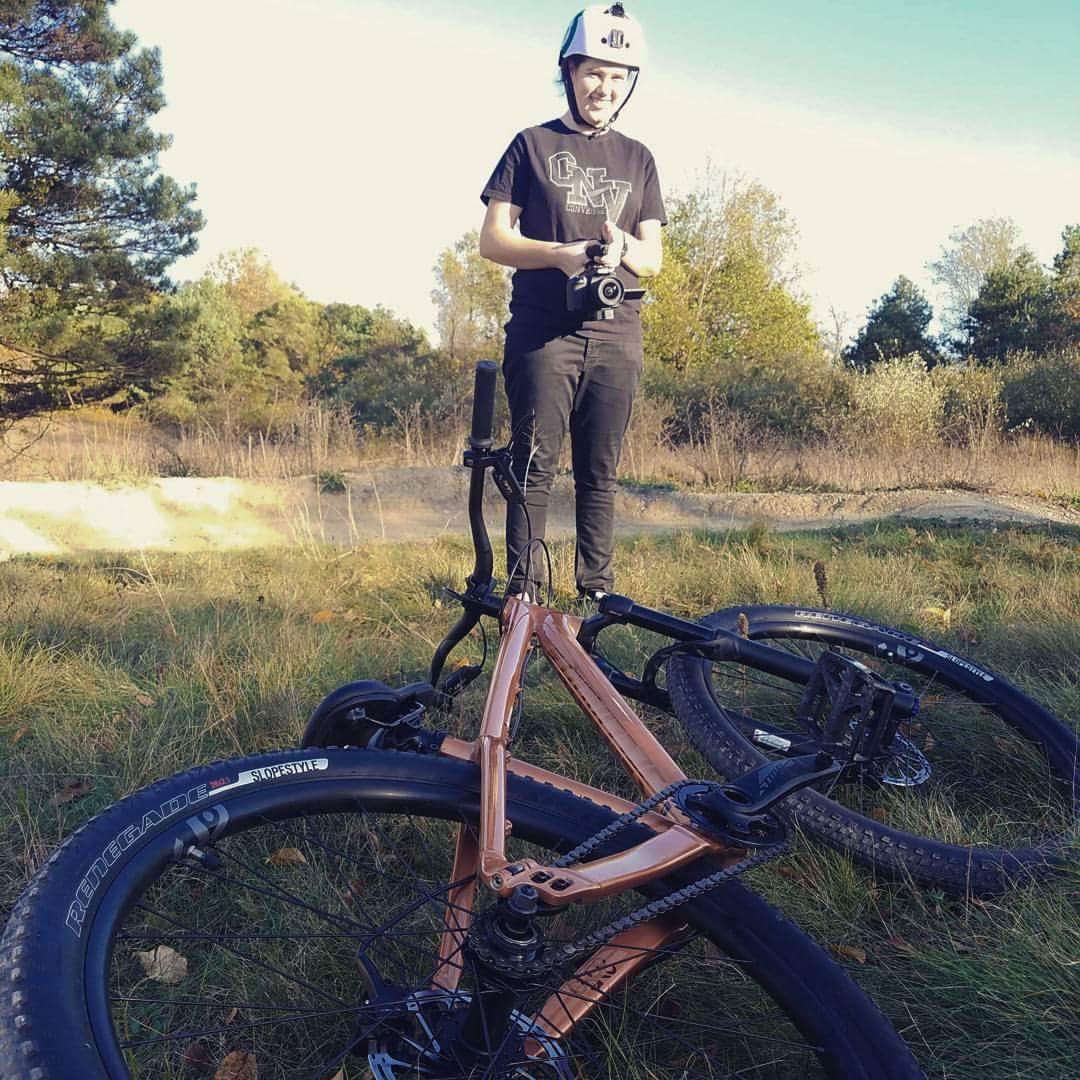 If you're looking at getting an action camera definitely do your research. Some action cameras are better than others and they have different uses. Not all expensive cameras are good and not all cheap ones are bad. My Bandit ended up costing me about $150 and that included the spare bat-stick I bought with it. Have a great mountain bike season!
---
Winter Balance – Wait, What?
by Josh Vande Berg, Brighton HS '20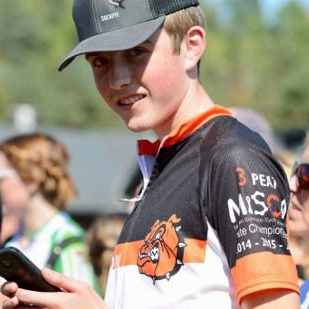 Wouldn't it seem easier to focus on school and leisure in the Winter – that is if Winter is your down season for sports. Well, let me tell you, It ain't! I won't speak for all, but many will relate when I talk about how difficult it is to balance school, sports, jobs, services hours, gaming, etc…
Doesn't it seem like teachers forget that theirs isn't our only class? How many of you are loaded down with Chemistry, math or an honors class which regularly assigns a ton of homework – wildly disproportionate to your other classes? Not to mention quarter and semester end crunches. Are they trying to kill us!? What about those service hours your parents are compelling you to complete, driving permit hours, or part-time job demands, chores, etc…
And, let's be honest, we ALL squeeze in screen time. Even though it isn't listed above as a competing priority in need of balance, most are guilty of using our smartphones at every possible opening. PARENTS included! (so quit nagging) In fact, that screen time is so hard-wired into our weeks, let's just agree that it is a constant in this balancing equation. It is my go-to to, to decompress instead of diving right into homework.
So, it sure seems that the Winter Balance is an equation that has no solution. If you're like me, you apply your effort to the most important task at any given time, keeping the rest of the balls in the air, reprioritizing and recommitting as needed. According to my wise and wonderful parents (they made me say that), this condition is common to professional work and life in general. On the surface, sure sounds like gimmicky encouragement, right? However, once I heard real, specific examples and considered my own dilemma, I believe it to be true.
Bottom Line: Get used to Juggling!
On the Bright Side, I remind myself that half the school year and its annoying homework are behind me. Spring Break is right around the corner, warmer sunnier days and unlimited access to the Great Outdoors not long after. I eagerly look forward to breaking out my mountain bike, tinkering with my bike gear, regrouping with my Brighton Cycling Team, and getting back on those awesome Michigan trails. See you out there soon!
---
What a great cycling season we had!
by Regan Abramson, Brighton HS '20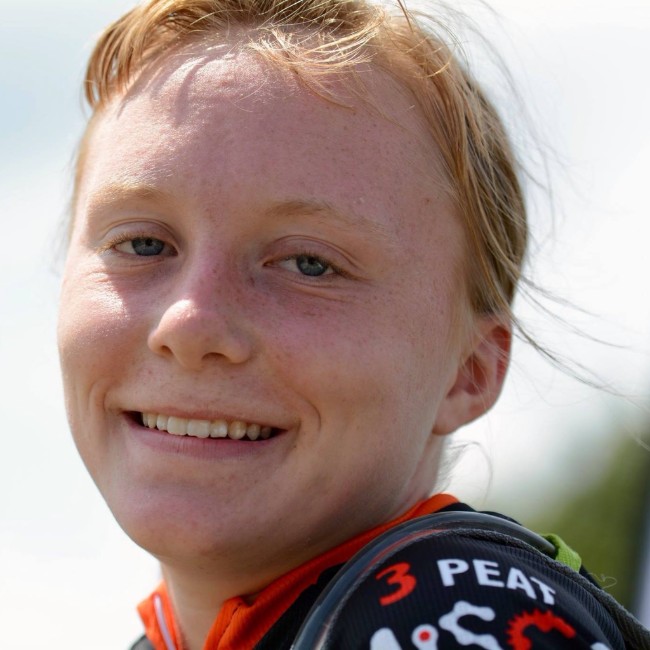 What a great cycling season we had! How unfortunate that they all have to come to an end. My biggest thought was, "What am I going to do with my life next? How can I stay somewhat involved with the cycling season?" I missed it so much. Another struggle during the winters in Michigan is staying active, and, with school in session, it can be hard to find the time to ride with someone. If you have a fat bike that can ride through snow and have time, by all means, ride it!
If you don't have a fat bike to ride through the snow, you can work out at a gym and lift some weights or run on the treadmill. You can even join a team sport, like basketball, volleyball, hockey, indoor soccer, or, hey, an exercise bike! This is great if you enjoy the gym. I don't enjoy the gym very much, so I prefer jogging, walking, or ice skating. I've never done this before, but I really want to try cross-country skiing through the woods. If you don't like being outside or in a public building, or you are a couch potato like me sometimes, get off that couch during a tv commercial and do some squats, lunges, push ups, sit ups, etc. Go on YouTube and find some cycling workouts for the next season! I can't wait!
My favorite parts of the cycling team were the wonderful teammates, coaches, and parents who were involved. Everyone is so caring about one another, and I made a lot of awesome friends, and I don't make friends very easily. Everyone on the team seems to love the sport of mountain biking, and we all cheer each other on at the races whether or not we're friends with each other. That's what a team is, and it doesn't get any better than that! My other favorite part is that unlike so many other sports, it's okay to be a beginner. News flash, we actually want people on our team! You don't have to try out! All you need is a bike, a helmet, and the urge to learn. The coaches will help you. They took me out on the trail all because I had a bike and wanted to learn the basics, even in the middle of the season, and then I joined the team the next one. Amazing!
---
Click here to learn more about MiSCA's Student Advisory Committee.